Unlimited possibilities and creative freedom in one CMS
With the Sulu CMS all doors are open for you. We develop the so-called "CMS-Admin" of your website specifically tailored to your needs. So on the one hand we can rather limit the functionalities, so that also less experienced administrators can manage the content of the website, on the other hand we can provide the CMS relatively flexible. After implementation, you can enrich your site with a wide variety of blocks and thus display content in an absolutely variable way.
What are the advantages of Sulu compared to other CMS?
Open Source: Sulu is an open source content management system with a very simple and intuitive user interface. This is one of the main reasons why we use this CMS.
Preview function: in Sulu, content can be previewed even before it is published (WYSIWYG). This feature is extremely helpful so that the administrator can see how the content will appear on the page on a wide variety of devices (e.g. desktop, mobile, tablet).
Controllability: the publication of your website is 100% controllable, so clean HTML5 and content flexibility are not only possible, but the bare minimum.
Search Engine Optimization: Unlike most other content management systems such as Wordpress, Joomla or Drupal, editors have complete control over meta tags and keywords. For this reason, Sulu is also the number 1 search engine optimization tool for us.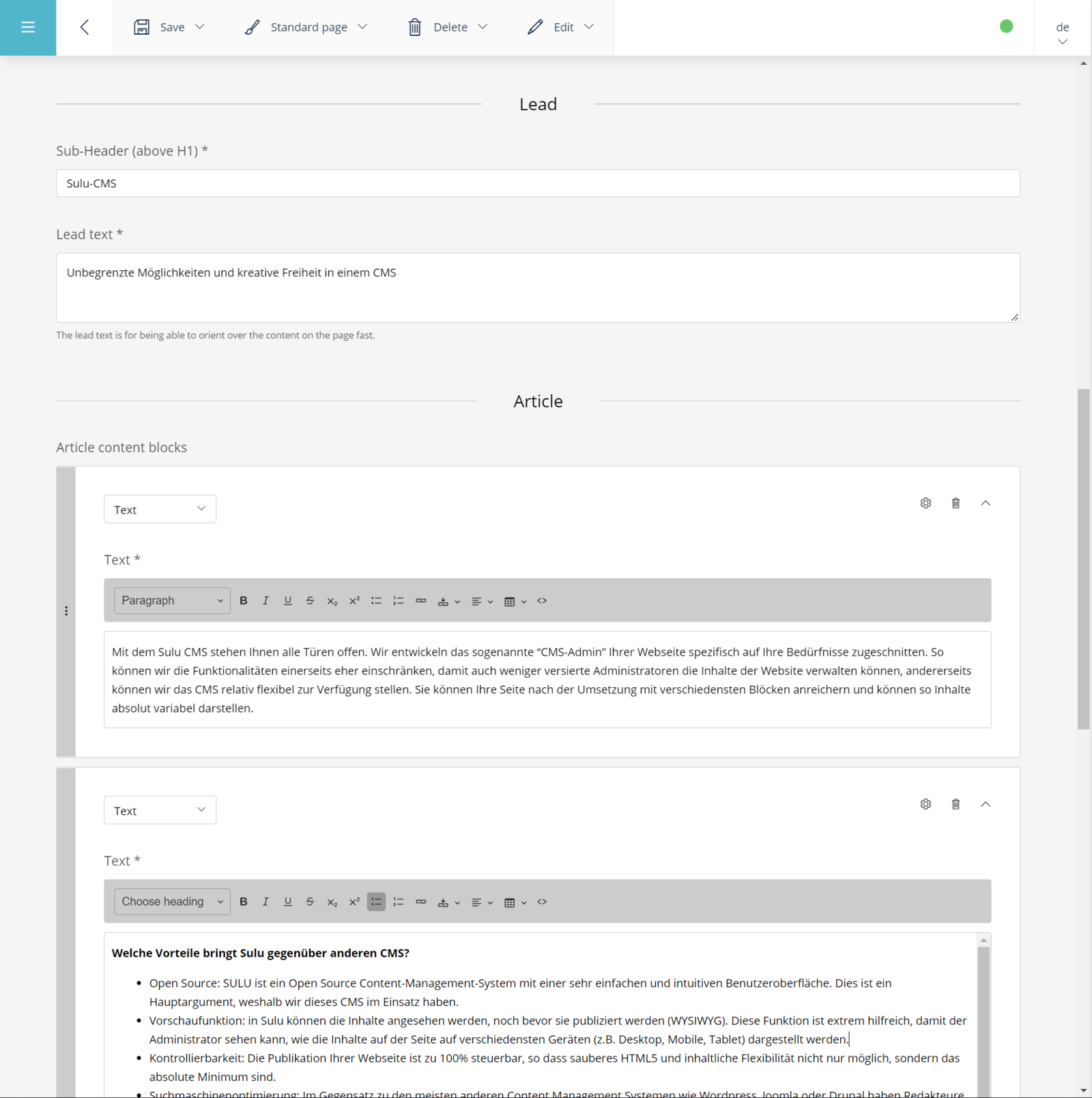 cloudtec as Sulu Integration Partner
Since 2016, we offer our customers solutions based on Sulu CMS. From classic corporate websites to multilingual international websites, which have to meet modern standards. The combination of content management system and our framework is a great advantage. Because Sulu CMS is a part of our platform stack , we can adapt to every need of the customer and configure the content management system in a way that every customer gets what he needs in the end.
Sulu sets us no limits - that's why we love it!
Features that convince
Test Sulu yourself in the demo
You can test Sulu at: Sulu demo page. The demo instance is freely accessible and can be tested at any time.
Editing page content & control
We prepare various page templates for you to create content. This can be for example a template for the start page or also for a news overview. These page templates are composed of various blocks, which can also be individually adapted to the wishes of the customer. Blocks can be adjusted, moved or deleted at any time. Thus, with Sulu CMS, you always have control over how your page will look when it is published. Sulu works on a template principle. This means that we can create a template for you for each specific page, which you can then fill with content and edit as you wish.
Create content structure & Add new pages
What good is the most beautiful website, without valuable content. With Sulu Content Management System you can now create and manage this valuable content yourself. Basically, the principle of Sulu is quite simple. The editing interface for the content is structured like the folder management on all common computers. There is one column per hierarchy level. The hierarchy level is decreasing from left to right. You can add as many pages as you like on each level. Of course, you can also move existing content pages in Sulu.
Manage media
To be able to fill a website with good content, you need to have access to a well-organized database. Each uploaded file is in its own container. If the file is linked multiple times, then you can replace this file in the media folder and all links to this file on the website are also updated.
Another great feature is the image cutouts. We define image sizes for each template. After uploading an image, different formats can be defined. For example, an image can be used as a horizontal header and also displayed in 16:9 format in a news overview page.
Websites based on Sulu